Nightwish veröffentlichen spezielle Tour-Edition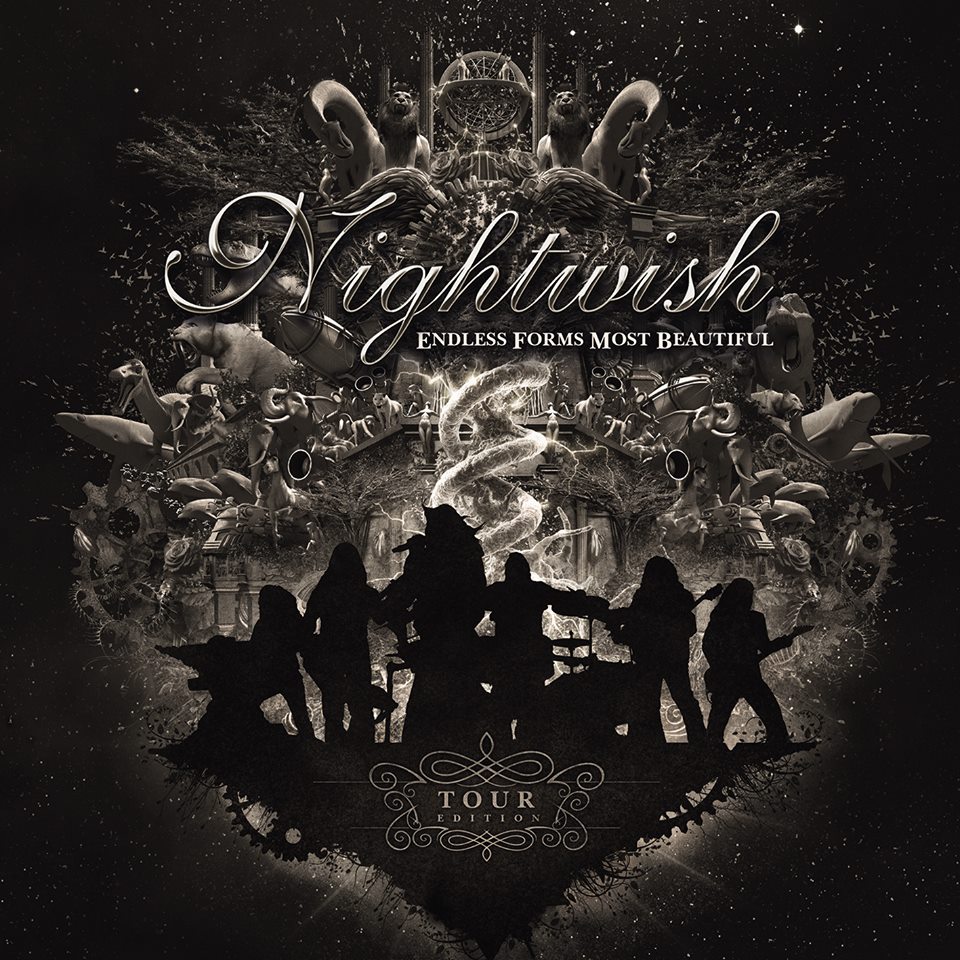 Nightwish kündigen die Veröffentlichung einer streng limitierten (keine Nachauflage!), speziellen Tour-Edition ihres aktuellen Longplayers, inklusive Bonus-DVD (wahlweise auch als Blu-ray), am 30. Oktober an.
Die DVD enthält alle 21 Making-of-Episoden, die vor, während und nach der Veröffentlichung der aktuellen Scheibe erschienen sind. Zudem enthält der Bonus-Tonträger zwei brandneue Live-Clips von "Yours Is An Empty Hope" und "Stargazers" sowie fünf Special-Clips der Tracks "Planet Hell", "Last Of The Wilds", "Storytime", "Arabesque" und "Last Ride Of The Day". Außerdem enthält die DVD eine ausführliche Fotogalerie mit mehr als 400 Bildern, die während der "Endless Forms Most Beautiful"-Phase entstanden sind.
Die finale, 21. Making-of-Episode "Troy" gibt es heute exklusiv hier zu sehen:
"Endless Forms Most Beautiful"-Tour Edition-Tracklist:
CD
01. Shudder Before The Beautiful
02. Weak Fantasy
03. Élan
04. Yours Is An Empty Hope
05. Our Decades In the Sun
06. My Walden
07. Endless Forms Most Beautiful
08. Edema Ruh
09. Alpenglow
10. The Eyes Of Sharbat Gula
11. The Greatest Show On Earth
DVD/Blu-ray
01. Yours Is An Empty Hope (Live)*
02. Stargazers (Live)*
03. Planet Hell (Special-Clip)
04. Last Of The Wilds (Special-Clip)
05. Storytime (Special-Clip)
06. Arabesque (Special-Clip)
07. Last Ride Of The Day (Special-Clip)
08. Making-of
– The Cabin
– By The Lake
– Inside His Head
– Summer Camp
– More Campers
– New Hometown
– Almost There
– London
– Mixing And Mastering
– Ready!
– Release Of The First Single
– The Theme Of The Album
– The Recordings For Floor & Kai
– Thoughts And Feelings
– The Release
– The Artwork
– The Tour Rehearsals
– The Tour Starts
– The Second Single
– The Upcoming Shows
– Troy
09. Élan (Offizielles Video)
10. Endless Forms Most Beautiful (Offizielles Video)
11. Fotogalerie
*zuvor unveröffentlicht, 5.1 Dolby Digital & Stereo
Vorbestellungen der Tour-Edition sind hier möglich: http://nblast.de/NIGHTWISHtouredition
21 August 2015 Dark Aurora NEWS