Swallow The Sun & Wolfheart: Nordmänner auf Europa-Tour!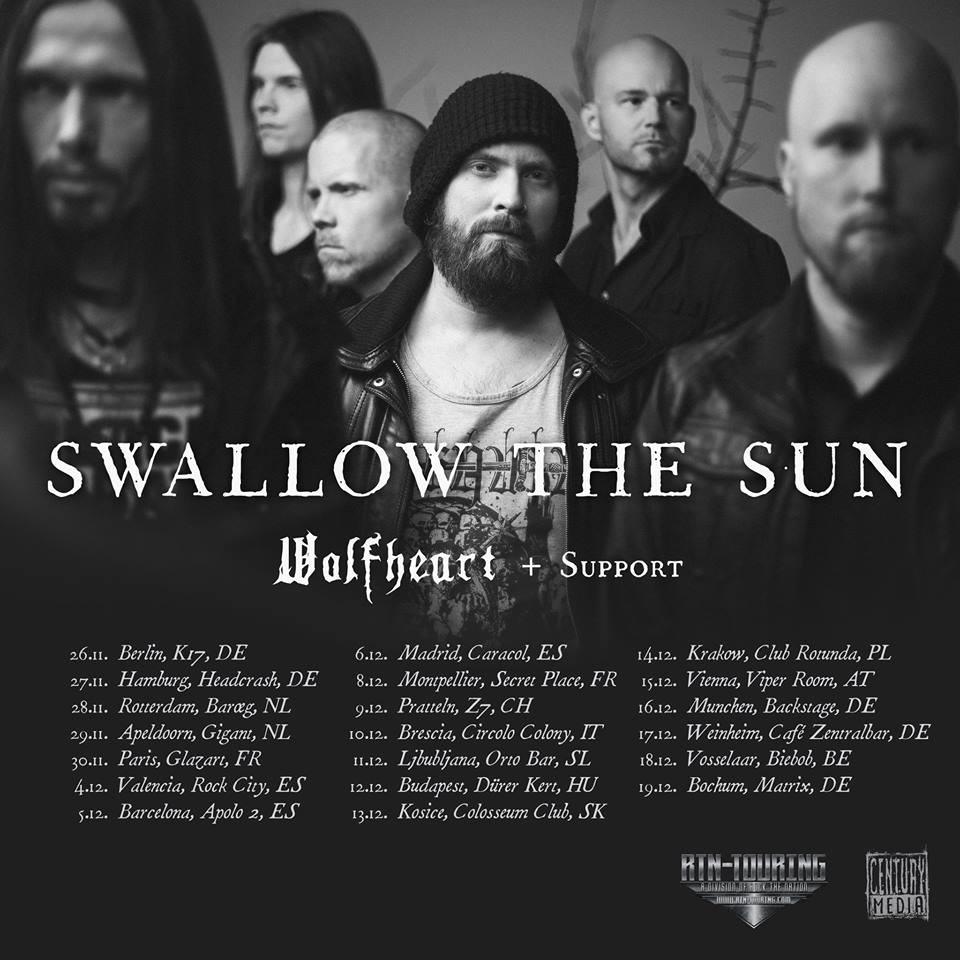 Es sei mal wieder an der Zeit, auf Tour zu gehen, finden Swallow The Sun. Gesagt, getan. Im November und Dezember 2015 machen sich die Finnen mit ihrem neuen Triple-Album "Songs From The North I, II & III" auf den Weg, um mit Wolfheart auch fünf deutsche Städte unsicher zu machen.
Für die Landesmannen Wolfheart mit Mastermind Tuomas Saukkonen ist dies eine günstige Gelegenheit, fiel ihr Tour-Support für Insomnium doch kürzlich ins Wasser, weil die Melo-Death-Metaller aus krankheitsbedingten Gründen ihre geplante Ost-Europa-Tournee abblasen mussten. Aber wer weiß, vielleicht kann sie zeitnah nachgeholt werden!?
Bis dahin gibt es erst einmal Swallow The Sun, Wolfheart plus einen weiteren Support-Act live zu erleben. Hier die Daten:
26.11. Berlin, K17, DE
27.11. Hamburg, Headcrash, DE
28.11. Rotterdam, Baroeg, NL
29.11. Apeldoorn, Gigant, NL
30.11. Paris, Glazart, FR
04.12. Valencia, Rock City, ES
05.12. Barcelona, Apolo 2, ES
06.12. Madrid, Caracol, ES
08.12. Montpellier, Secret Place, FR
09.12. Pratteln, Z7, CH
10.12. Brescia, Circolo Colony, IT
11.12. Ljbubljana, Orto Bar, SL
12.12. Budapest, Dürer Kert, HU
13.12. Kosice, Colosseum Club, SK
14.12. Krakau, Club Rotunda, PL
15.12. Vienna, Viper Room, AT
16.12. München, Backstage, DE
17.12. Weinheim, Café Zentralbar, DE
18.12. Vosselaar, Biebob, BE
19.12. Bochum, Matrix, DE
23 September 2015 Dark Aurora NEWS